Neuboron Medical Group is the 1st company in China aiming at providing BNCT total solution to hospital users, including hardware, software, as well as boron compounds.
Recently, Xiamen BNCT Center witnessed the signing ceremony for the strategic partnership agreement on the clinical use of neutron capture therapy and radiological health innovation.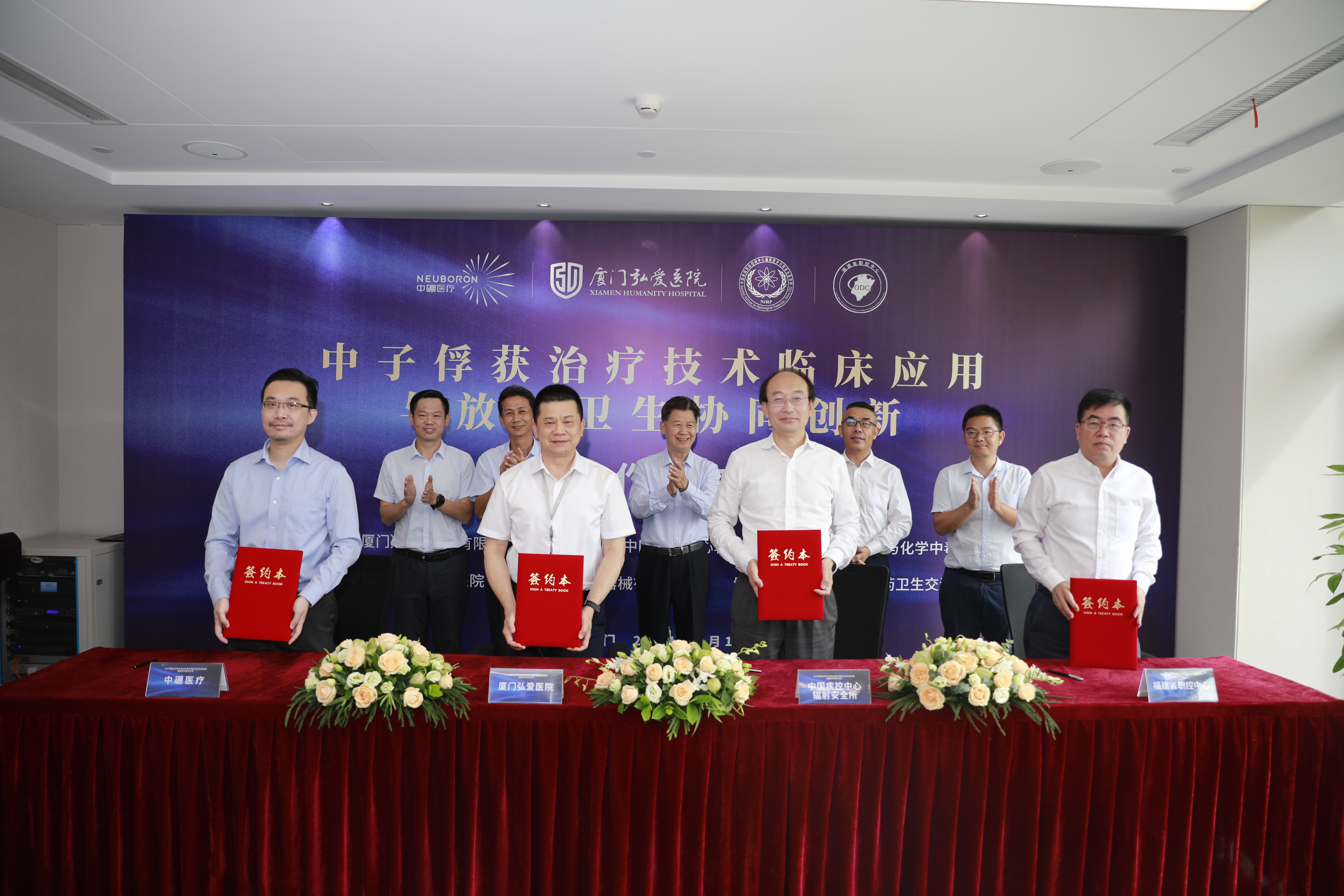 The agreement was signed by the following four parties: Neuboron Medical Group, Xiamen Humanity Hospital, the National Institute for Radiological Protection (NIRP) of the Chinese Center for Disease Control and Prevention, and the Fujian Center for Prevention and Control of Occupational Diseases and Chemical Poisoning(ODC).
According to the agreement, the parties will accelerate the process of joint innovation and clinical application of BNCT by revolving around the major demands for cancer treatment in China and leveraging their respective resources and research outputs.
The ceremony was attended by Li-Ji Wang, Chair of the Cross-Straits Medicine Exchange Association; Quan-Fu Sun, Director of the NIRP; Qing-Jie Liu, Deputy Director of the NIRP; Wei-Qi Wei, Director of Fujian Center for Prevention and Control of Occupational Diseases and Chemical Poisoning; Gang Lin, Deputy Director of Xiamen Municipal Health Commission; Qin-Yong Zhan, Deputy Secretary General of Xiamen Municipal Center for Disease Control and Prevention; Xing-Quan You, Secretary General of the CPC Committee of Xiamen Humanity Hospital; Min-Gang Ying, Director of Xiamen Humanity Hospital; and Yuan-Hao Liu, General Manager of Neuboron Medical Group. During a symposium, they discussed quality control, standardization, and the development of relevant clinical guidelines related to BNCT.
Multiple support: China's BNCT is expected to benefit patients soon
According to Li-Ji Wang, the historical clinical data from worldwild research institutions has shown that BNCT has obvious therapeutic effect in treatment of malignant tumors. Neuboron is a BNCT pioneer in China.
Qing-Jie Liu said radiation protection and safety in nuclear medicine is integral to radiological health, adding that the strategic partnership agreement will enhance the standardized application of BNCT in China.
BNCT is a very promising medical technology as it is in keeping with China's technology innovation strategy, said Wei-Qi Wei.
"Neuboron is a trustworthy partner with an excellent R&D team," said Min-Gang Ying. "With its strong medical expertise in BNCT, we are confident of a fast clinical development of BNCT."
"The Xiamen BNCT center defines itself as an international research harbor which aims not only to facilitate BNCT research with Chinese scientists, but also to explore the knowledge of BNCT together with talents and scholars worldwide," Dr. Yuan-Hao Liu, chief scientist and CEO of Neuboron, one of the initiators of this ceremony said. "The Xiamen BNCT center is now under commissioning and V&V. It aims to conduct preclinical animal study in the Autumn, and the goal is to perform the first human clinical study against time."
Complementary advantages: promoting the establishment of BNCT quality control system and standard
As the accelerator-based BNCT becomes increasingly popular in hospital in China, the industry is in urgent need of well-established regulations and standards, adequate quality control and assessment system, and scientific clinical guidelines. The parties have complementary advantages in BNCT development, quality control and testing, radiation protection, and clinical practices.
National Institute for Radiological Protection, Chinese Center for Disease Control and Prevention (NIRP, China CDC), is a national specialized technical institution for radiological medicine and radiation protection, affiliated to the Ministry of Health and the Chinese Center for Disease Control and Prevention, and is a professional guiding centre in this field nationwide.
Fujian Center for Prevention and Control of Occupational Diseases and Chemical Poisoning is a government-affiliated public health institution that provides technical support for the prevention and control of occupational diseases as well as medical facilities for the treatment of chemical poisonings and nuclear radiations. It boasts a high-performance talent team and excellent nuclear medicine therapy.
Xiamen Humanity Hospital is the first medical institution in China to build an accelerator-based BNCT facility, and it has abundant clinical resources and top medical experts. Its BNCT Center has now become the top BNCT clinical research harbor in China.
Neuboron Medical Group founded in 2014 is an innovative industrial enterprise specialized in R&D of Boron Neutron Capture Therapy(BNCT) total solution. Neuboron has successfully delivered a unique AB-BNCT system NeuPexTM for the 1st BNCT Clinical Center in China.
Symposium
BNCT is a cutting-edge technique that integrates medication and radiotherapy. System quality control is key for medical radiation safety and a major target of regulations. The quadripartite strategic cooperation marks a major step toward the development of China's BNCT quality control and assessment system.
About Boron Neutron Capture Therapy(BNCT)
Boron Neutron Capture Therapy (BNCT) is a newly recognized technology for precise cancer treatment. Known as a heavy-ion treatment at the cellular level, BNCT has demonstrated promising clinical efficacy in the treatment of recurrent, invasive, metastatic, and untreatable cancers, particularly head and neck cancers, brain tumors, and malignant melanoma. In the process of BNCT treatment, a patient is first infused with a targeted boron drug-carrying 10B, which is a stable and non-toxic boron isotope. The targeted drug can selectively accumulate in the tumor cells. After infusion, external irradiation with a directional, low-energy epithermal neutron beam is applied to the tumor region. The neutron irradiation triggers the nuclear capture reaction of 10B (mostly absorbed by cancer cells) and releases two high-energy heavy ions (4He and 7Li) that travel within 10 micrometers (close to one cellular size). The heavy ions can destroy the DNA double helix of cancer cells while limiting damage to the surrounding normal cells.
About Neuboron Medical Group
Neuboron Medical Group was founded in 2014 in Nanjing and then expanded to Xiamen. It is the 1st company in China aiming at providing BNCT total solution to hospital users, including hardware, software, as well as boron drugs. Neuboron is an R&D oriented enterprise that has built a completed and comprehensive IP protection over the whole BNCT technology. Currently it has 70 employees, covering different fields in BNCT and facility operation. Neuboron's AB-BNCT system NeuPexTM has been successfully installed in the Xiamen BNCT Center as well as the treatment planning system NeuMantaTM. More information about Neuboron is available at: https://en.neuboron.com/
Contacts:
contact@neuboron.com