Neuboron Medical Group founded in 2014 is the 1st company in China aiming at providing BNCT total solution to hospital users, including hardware, software, as well as boron drugs. Recently, Neuboron was invited to participate in the ICNCT-19.
During the plenary lecture, Neuboron Medical Group released recent research achievements and patented technology focusing on the independently developed accelerator-based BNCT(AB-BNCT) system NeuPex TM and shared the latest progress of the China's first BNCT Center in Xiamen City. Neuboron has made breakthroughs in a number of core and key technologies, and filled in gaps in AB-BNCT beam system and treatment plan system(TPS) in China.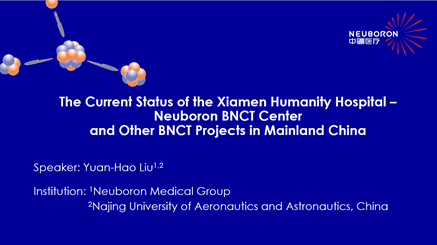 NeuPexTM developed by Neuboron, is a compact AB-BNCT system manufactured for clinical application. It is designed to provide efficient and high-quality epithermal neutron beams with an advantage depth of 11 cm (under a given condition) through a specially developed beam shaping assembly (BSA). Internationally, the treatment depth of AB-BNCT is generally between 5-6cm. "As we know, until now BNCTin clinical use can only cover superficial tumors such as GBM 、head and neck cancers、melanoma. It is largely due to the limitation of neutron penetration" Dr. Yuan-Hao Liu, chief scientist and CEO of Neuboron said," So in Neupex system,We have innovated the structure and material design of BSA to significantly improve the maximum depth of treatment, and also it is achieved that the beam intensity is adjustable for meeting more clinical requirement."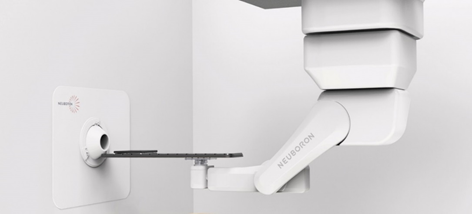 NeuPexTM
In BNCT, treatment planning system (TPS) directly affects the accuracy of treatment dose. Dr. Yuan-Hao Liu said,"In order to provide a friendly dose calculation environment, Neuboron has developed a TPS (Treatment Planning System) named NeuMantaTM which has a built-in dose engine COMPASS and provides support for MCNP and PHITS too. Unlike conventional radiotherapy, the dose engine for BNCT relies on the Monte Carlo method. The calculation speed is 150% faster than MCNP6 with the same calculation accuracy. Moreover, the system significantly improves the effectiveness of physicians in mapping, planning and QA.
Nowadays, BNCT is developing rapidly around the world. In the fall of 2021, after 24 months construction and installation, the Xiamen BNCT Center successfully delivered the 1st batch of epithermal neutron beams that could be used for BNCT irradiation.Dr. Yuan-Hao Liu said,"The Xiamen BNCT center is now under commissioning and conducting preclinical animal study.The center will be an international research harbor which aims not only to facilitate BNCT research with Chinese scientists, but also to explore the knowledge of BNCT together with talents and scholars worldwide. Therefore, the center equips with laboratories for medical physics, radiobiology, chemistry, ICP-MS, etc. The harbor will open for visiting scientists in 2022."
Accelerating New Hope in the Fight Against Cancer:Presentations by Neuboron at ICNCT19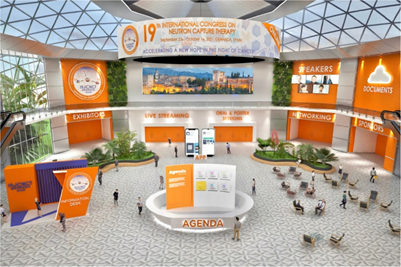 At ICNCT-19, besides Dr. Yuan-Hao Liu's plenary lecture, Neuboron presented the other three oral presentations at ICNCT-19:
●Gamma-ray contributions induced by 7Li(p, γ)8Be and 7Li(p, p')7Li reactions in the Li-based AB-BNCT(Wei-Hua Lu)
●An Explorative Study of Advantage Depth over Neutron Beam Energy, Spatial, and Angular Distributions in BNCT(Di-Yun Shu)
●Exploring MANTA-Ray: A Treatment Planning System especially developed for BNCT(Jiang Chen)
About Boron Neutron Capture Therapy(BNCT)
Boron Neutron Capture Therapy (BNCT) is a newly recognized technology for precise cancer treatment. Known as a heavy-ion treatment at the cellular level, BNCT has demonstrated promising clinical efficacy in the treatment of recurrent, invasive, metastatic, and untreatable cancers, particularly head and neck cancers, brain tumors, and malignant melanoma. In the process of BNCT treatment, a patient is first infused with a targeted boron drug-carrying 10B, which is a stable and non-toxic boron isotope. The targeted drug can selectively accumulate in the tumor cells. After infusion, external irradiation with a directional, low-energy epithermal neutron beam is applied to the tumor region. The neutron irradiation triggers the nuclear capture reaction of 10B (mostly absorbed by cancer cells) and releases two high-energy heavy ions (4He and 7Li) that travel within 10 micrometers (close to one cellular size). The heavy ions can destroy the DNA double helix of cancer cells while limiting damage to the surrounding normal cells.
About Neuboron Medical Group
Neuboron Medical Group was found in 2014 in Nanjing and then expanded to Xiamen. It is the 1st company in China aiming at providing BNCT total solution to hospital users, including hardware, software, as well as boron drugs. Neuboron is a R&D oriented enterprise who has built a completed and comprehensive IP protection over the whole BNCT technology. Currently it has 70 employees, covering different fields in BNCT and facility operation. Neuboron's AB-BNCT system NeuPexTM has been successfully installed in the Xiamen BNCT Center as well as the treatment planning system NeuMantaTM. More information about Neuboron is available at:https://en.neuboron.com/
Contacts:
contact@neuboron.com