Neuboron Medical Group announced the most recent outcomes for China's first AB-BNCT IIT-001 and a portfolio of new drug development.
May 09, 2023, 05:00 PM Hong Kong Time
On April 22, Neuboron Medical Group (NMG), a leading global Accelerator-based Boron Neutron Capture Therapy (AB-BNCT) total solution provider, and Xiamen Humanity Hospital (XHH) collaborated to co-host the Xiamen BNCT Technology Forum 2023 at the BNCT center in XHH. The event agenda underscored various topics, including BNCT clinical research, molecular imaging, nuclear medicine, and the development of next-generation boron drugs. A group of distinguished speakers from renowned research institutions, such as Peking Union Medical College Hospital, Taipei Veterans General Hospital, West China Hospital of Sichuan University, Nanjing University, China Pharmaceutical University, Dalian University of Technology, Tamkang University, and Changhua University of Education, gathered in person to present their latest research findings. The conference was a hybrid event bringing together around 5,000 physical and virtual attendees to discuss the outlooking of BNCT's new drug and clinical development.
The first patient with recurrent head and neck chondrosarcoma at the forum shared his transformative experience with BNCT treatment. In addition, Prof. Dr. Yuan-Hao Liu of NMG presented the latest clinical research findings from the Xiamen BNCT center. To date, the Neuborons' NeuPex AB-BNCT System, along with the use of boronophenylalanine (BPA) NBB-001, has demonstrated promising treatment efficacy and tolerable toxicity levels in 14 patients with 18 irradiations, particularly in controlling local tumors for head and neck (HN) patients, as well as demonstrating remarkable safety and efficacy for glioblastoma (GBM) patients. As of now, there have been a few cases where individuals have reached a complete response (CR).
The expansion of clinical indications for BNCT relies heavily on the development of new NCT drugs. Multiple research teams presented their latest findings on potential new compounds during the conference. These groups also carried out preclinical efficacy evaluation experiments on the Xiamen BNCT platform, which included cell and animal studies, in addition to fundamental pharmaceutical research. Their findings provided essential data for future clinical applications.
As a highly multidisciplinary advanced radiation modality, the forum marked an ideal platform for researchers to exchange their insightful perspectives on BNCT research. The Xiamen BNCT center strives to promote open innovation within the global BNCT community to accelerate the clinical application of BNCT research and novel drug development from bench to market in the short future.
Please note that the Neuborons' NeuPex AB-BNCT System and boron drugs are currently in development and are not available for commercial use.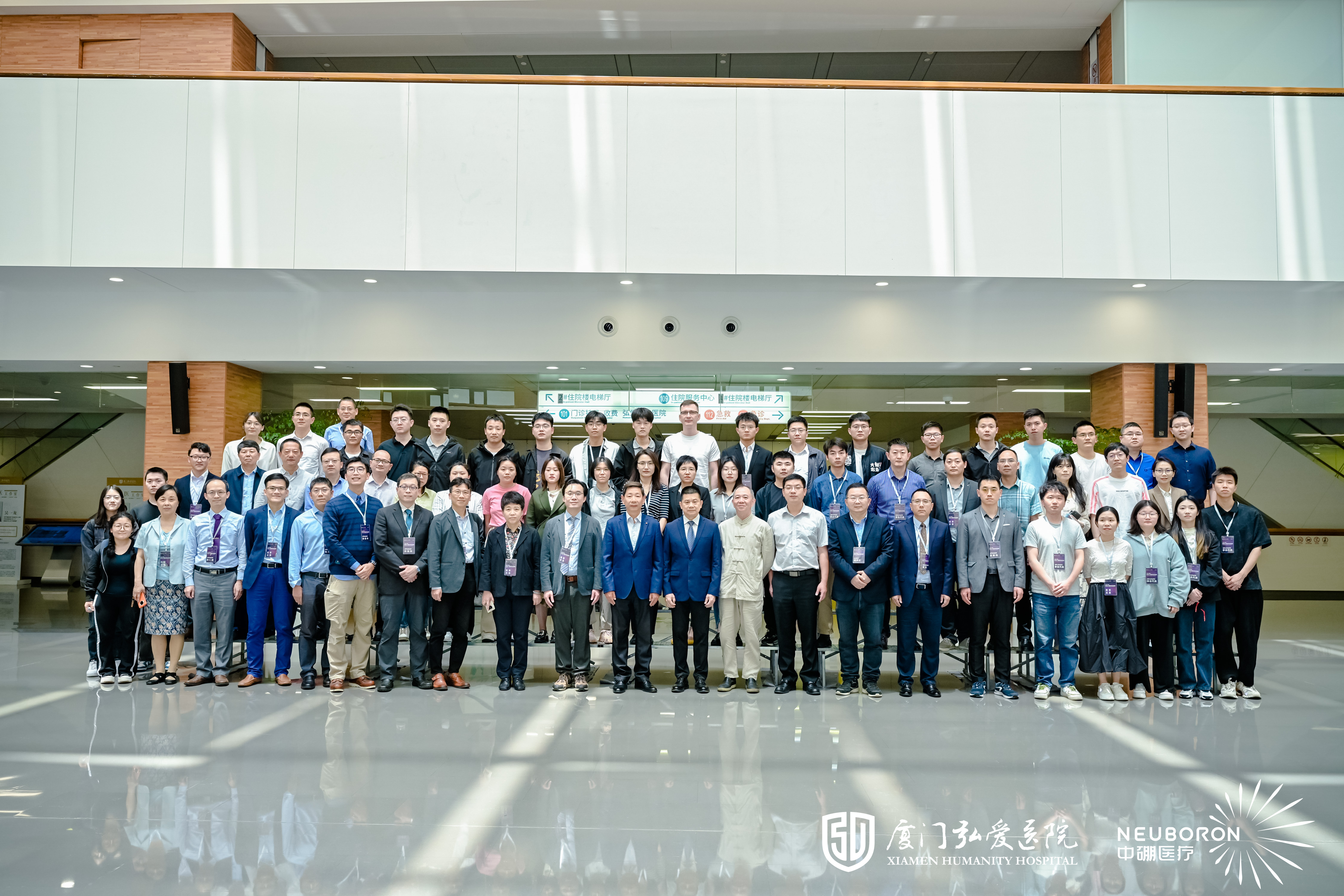 About BNCT
Boron Neutron Capture Therapy (BNCT) is a targeted radiation oncology therapy in that neutron beams destroy only boron compound-bearing tumors without destroying neighboring healthy tissue. BNCT has significant advantages of delivering highly effective and very cell-centralized radiation therapy in treating patients with recurrent, invasive, and local-regional metastases refractory tumors with a relatively low impact on the patient's quality of life. To date, approximately 2,000 patients have been treated with BNCT at research sites worldwide.
About Xiamen Humanity Hospital
XHH is a Class III non-profit comprehensive hospital funded by Xiamen Ren'ai Medical Foundation (a non-public charitable medical foundation launched by Xiamen C&D Corporation Limited, the state-owned enterprise under Xiamen City), which is a modern hospital integrated with medical, first aid, prevention, healthcare, rehabilitation, teaching and R&D and with rich talent advantages and appropriate medical supporting equipment and facilities.
About Neuboron Medical Group
Neuboron Medical Group (NMG) was founded in 2014 in Nanjing and then expanded to Xiamen, China. NMG is China's first and only company focused on providing Boron Neutron Capture Therapy (BNCT) total solutions to hospital users, including hardware, software, and boron drugs. Neuboron is a research and development-oriented enterprise that has built integrative and comprehensive know-how and capability over the whole BNCT technology. Neuboron has deployed China's first in-hospital compact AB-BNCT medical system (aka. NeuPex) since August 2021 and has undergone the first-in-human study at Xiamen Humanity Hospital (XHH) BNCT Center in 2022.
CONTACTS
Neuboron Medical Group
contact@neuboron.com