In 2022, Xiamen Humanity Hospital and Neuboron Therapy System (a wholly-owned subsidiary of Neuboron Medical Group) were approved for the Sino-Italian Fund for International Cooperation AMONG-US Program (AMONG-US: Accelerators for Medicine – Optimizing Neutron Generation and USe for cancer), collaborating with Nanjing University of Aeronautics and Astronautics (NUAA), National Institute for Nuclear Physics (INFN), and other top-tier Italian universities.
On July 18, the Sino-Italian Joint Innovation Workshop on Boron Neutron Capture Therapy (BNCT) was kickstarted in Xiamen, China, by Neuboron Medical Group - a leading global provider of Accelerator-based Boron Neutron Capture Therapy (AB-BNCT) solutions and aim to strength collaboration for the AMONG-US program. Additionally, Neuboron will provide guidance for the construction of the first government-backed AB-BNCT project in Italy at the Caserta BNCT Center and will share its XHH-Neuboron (Xiamen) BNCT Center construction experience alongside the entire suite of NeuPex AB-BNCT medical system to support the project.
Pavia Unit of the National Institute for Nuclear Physics (INFN), National Laboratories of Legnaro of INFN, and the University of Campania Luigi Vanvitelli teamed up at XHH-Neuboron (Xiamen) BNCT Center.
"Italy is the leading representative of BNCT technology development in Europe, and has carried out the first BNCT trial treatment of liver metastatic cancer autotransplantation using reactor neutron source in the world, and has abundant experience in BNCT practice and radiobiology," said Prof. Mingang Ying, President, Xiamen Humanity Hospital. "China's new-generation AB-BNCT technology has been booming and able to compete at the international level in recent years. China and Italy have a great deal of opportunities for BNCT cooperation."
Prof. Mingang Ying, President of Xiamen Humanity Hospital, expressed his welcoming thanks to the delegation of Italy.
"Congratulations on the successful launch of China's first AB-BNCT human clinical study. The development of BNCT in China has drawn global attention, and the Chinese and Italian research teams are looking forward to learning from each other's strengths through this seminar to promote the application of BNCT in the two countries accordingly." Said Valerio Vercesi, Director of the Research Unit of Pavia, INFN.
Dr. Valerio Vercesi, Director of the Research Unit of Pavia, INFN
Neuboron is collaborating with Xiamen Humanity Hospital, NUAA, INFN-Pavia, and the University of Campania to establish the International Industry-Education Alliance for Neutron Capture Therapy (IEANC). This initiative aims to enhance exchanges and cooperation among universities, research institutes, and enterprises in the BNCT space.
At the event, Xiamen BNCT Center unveiled the establishment of the Industry-University-Research Cooperation Alliance, the Sino-Italian Joint Laboratory for International Cooperation in Advanced Particle Radiation Therapy, and the Joint Postgraduate Program.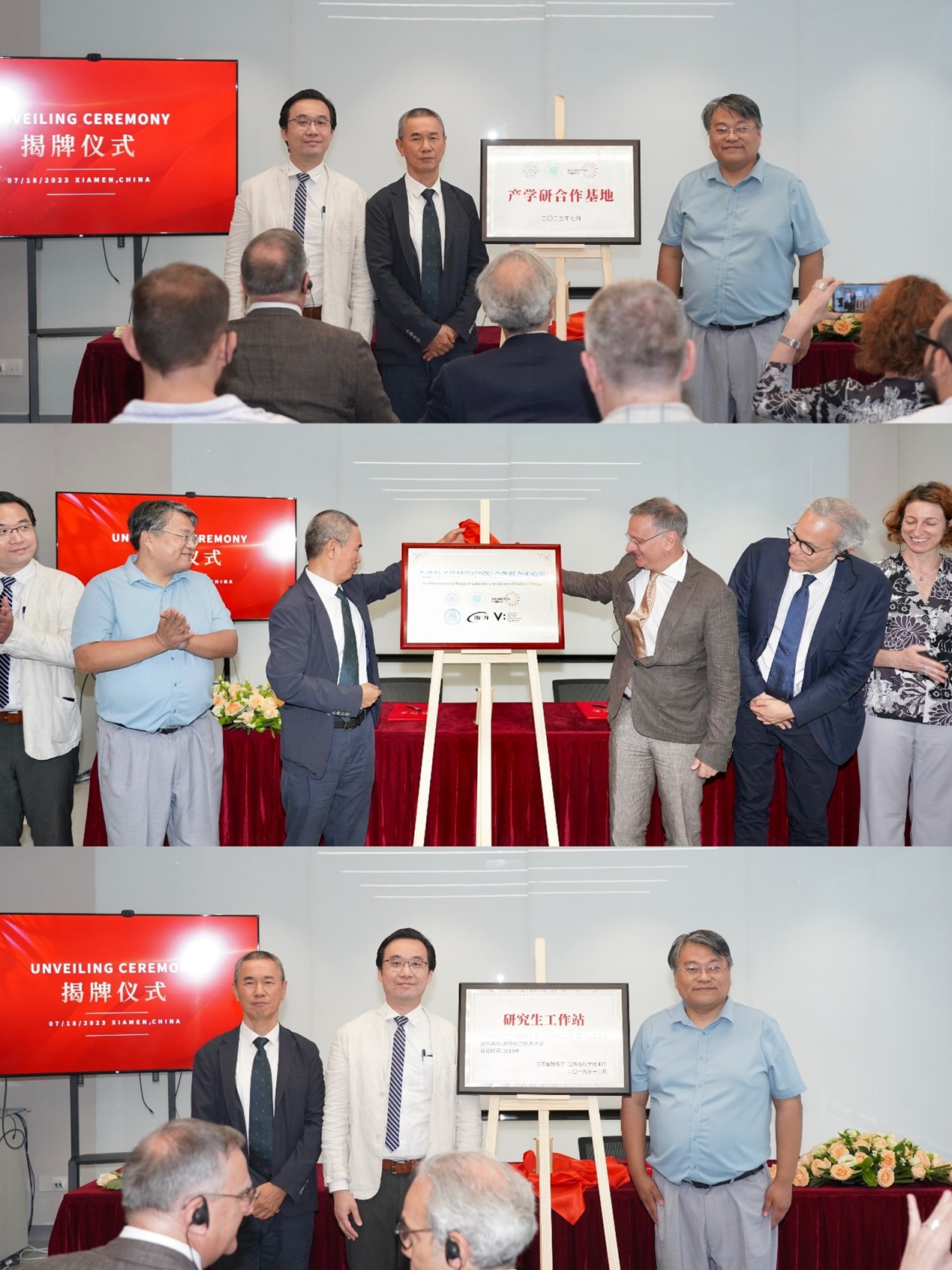 In addition, a report was given by Dr. Valerio Vercesi regarding the progress of constructing the Caserta BNCT Center. It is the first governmental AB-BNCT project in Italy, named "BNCT project ANTHEM," and is being led by the University of Campania. The project will benefit from the expertise of XHH-Neuboron BNCT (Xiamen) Clinical Center and Neuboron's hardware and software technology. At the meeting, Chinese and Italian delegates shared insights on optimizing neutron beam current, dose calculation, radiobiology, and clinical research for BNCT technology.
The workshop allowed the two countries to exchange viewpoints on BNCT development and establish a regular mechanism for research groups to engage in multidimensional collaboration.